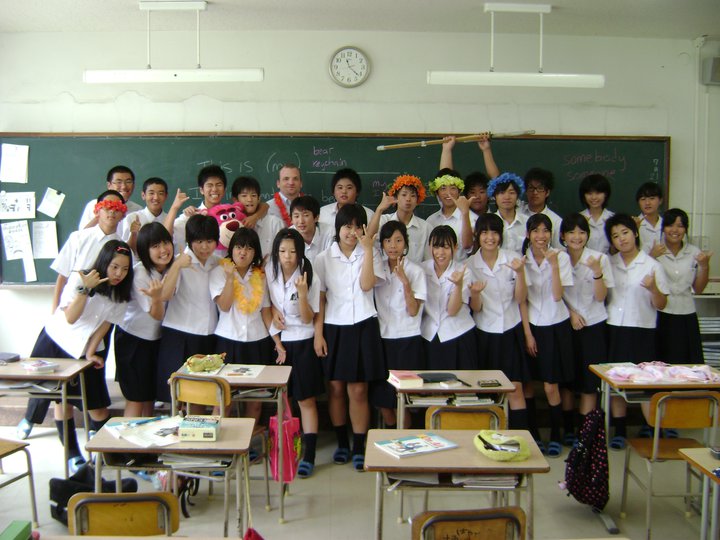 Aloha! My name is Beau Mueller and I am the founder of The Moneywise Teacher.  As you can probably guess from my greeting, I am from Hawaii! I dreamt up the idea for this site while teaching English on the JET Programme in rural Japan.   (See above for a shot of me with one of my classes.)
While I was in Japan, I loved teaching with a passion (still do!), but was not completely satisfied with what I was making or able to save as an ESL teacher.  With debts piling up and a new baby on the way, I started to look into ways to add to and save more of my teacher income.
At that time, I found some articles that spoke directly to educators about financial literacy, money-making and money-saving strategies and programs, but was unable to find a dedicated website catering to educators specifically.
I then decided I wanted to create an online blog/community to help myself and other educators improve financial literacy, and be inspired to make and save more!  
It took me a few years to get this website off the ground, but The Moneywise Teacher was finally launched in December of 2015!
All Things Educators AND Money!
In short, The Moneywise Teacher was started to help educators make and keep more money! Towards those aims, this site features regular content on all things "educators and money".   Whether you want to earn extra money on the side or post-retirement, save money on buying a home or car, are looking for great educator discount programs online, or something else relating to money, this website should hopefully be a great resource for you.  
By Educators. For Educators.
That's right, all content here is made specifically with educators in mind.
Also, I am not the only one writing here!  This is a collaborative effort and we are constantly searching for contributors with education backgrounds.
The site is still pretty small, but the goal is to publish over 500 articles in 2022.
Keep in Touch
If you have any general questions or comments, please visit our contact page.  I'd love to hear from you!
Thanks again for dropping by!  I truly hope you enjoy and learn from the site!