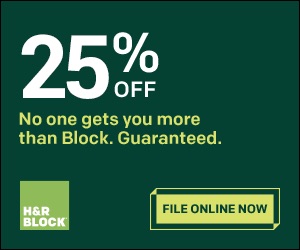 If you are looking for the best H&R Block teacher discount, you have come to the right place!
H&R Block Discount for Teachers – The Details
Firstly, if you are an educator with simple taxes,you can have your taxes done online with H&R Block for Free! For example, if you you rent your home, have kids, and have a W-2 the free version should be fine for you.
On the other hand, if you have a more complicated tax situation, you can take advantage of your H&R Block teacher discount for 25% off.
H&R Block Benefits for Educators
H&R Block offers educators unlimited help via live chat.  Other benefits include no hidden fees. Furthermore, H&R Block guarantees you your biggest refund!
H&R Block Teacher Discount – Get 5% Added to Your Refund on Amazon!
One cool feature of filing with H&R Block is that you can get all or part of your refund as an Amazon gift card.  If you go for that option, Amazon will give you an additional 5%. For example, say your refund is $100 this year, Amazon will give you a $105 gift card! If you have a $1000 refund coming, that could be an extra $50 for school supplies!
H&R Block Education Discount  – Start Filing Today!
In conclusion, the H&R Block education discount for teachers is definitely worth checking out! H&R Block has been a favorite of educators for a long time.  You will be in good hands if you file your taxes online with them.
Learn More/Start filing your taxes today at H&R Block HERE