Great board games are fun, engaging and can be wonderful learning tools! Here we share 5 of the top rated board games that teach money skills to young children.
1) Cashflow for Kids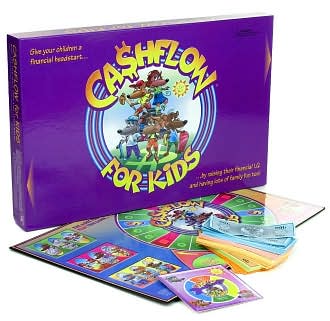 We start our list of board games that teach money skills to kids withCashflow for Kids. This game was developed by Robert Kiyosaki, author of the #1 selling personal finance book of all time, Rich Dad Poor Dad. He considers the game the realization of his vision for an interactive tool for financial education for children.
This highly engaging board game simulates real life situations and financial strategies in ways that both children and adults love. Through this game, your kids/students will gain insight into how money and investing work.
Cashflow for Kids – Sample Amazon Review
"Cannot rate this game highly enough. Kids love it, adults learn from it, and the kids get a real concept of return on investment and "doodad" spending (the latter to be avoided…). Have enough now for children, grand/great children(future). As long as I don't keep giving it away to every child who plays it at my home and wants to take it back to THEIR home…"
2) The Allowance Game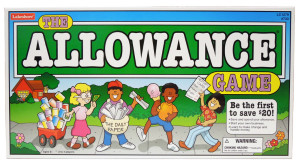 The Allowance Game is an involving, skill-building game where players race around the board while doing "chores" to earn their "allowance". After earning money, they can then spend it on things they want or save it. As children play, they learn to make change, handle money and more!
The Allowance Game – Sample Amazon Review
"We've been playing this game from when kids were 4 and still playing it regularly now that youngest is 8. Very fun. Teaches money in ways kids can understand (ie: allowance, buying ice cream vs buying houses, losing your money vs. taking out mortgages). The coins are the real shape and color of coins, so kids really learn the difference between them. And the paper money is real money colored so the same applies there. Parents enjoy playing it too."
2) Money Bags – A Crazy Coin Counting Game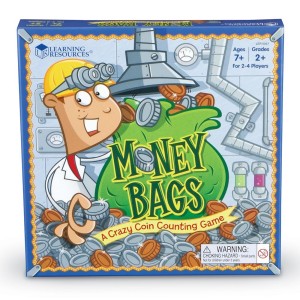 As the name suggests, Money Bags – A Crazy Coin Counting Game offers a fun way to teach children money-counting and combining skills.
The object of this game is to earn money while winding along a cartoon path. Money is earned by landing on "chore" square, labeled with a practical task, such as setting the table or an entrepreneurial endeavor such as opening a lemonade stand.
To collect money, the spinner determines which coins can or cannot be used, an excellent element to the game that encourages problem-solving and critical thinking.
Money Bags – A Crazy Coin Counting Game – Sample Amazon Review
"I use this game in the classroom as a math support teacher and at home with my kids. All of the kids love it and it moves at a good pace. I appreciate how the game doesn't just let the kids always decide what combination of coins they'll use to represent a certain value. When they spin the spinner, it will sometimes land on no dimes or no nickels, and so on. So they need to figure out how to make a certain amount without those coins."
4) Exact Change
Exact Change is similar to UNO in that the goal of the game is to play all of your cards first. You can discard cards by matching the color of the last card, its value, ($1.00 on $1.00, etc.), or by making EXACT CHANGE.
For example, if the last card played was a quarter, and you had two dime cards and a nickel card, you would be able to combine and discard all three of them at once!
This game is among the best board games that teach money skills to young kids.
Exact Change – Sample Amazon Review
"I bought this a few months ago when our middle daughter was having trouble learning about money in school. The UNO-like color/card match aspect of the game has reinforced that for her, while the plays to count out exact change is helping my older daughter with adding up larger numbers (up to $1 and beyond). I think this would be a fun game to play even without kids. The only thing that seems to discourage the kids is the "keep drawing until you play" rule. Sometimes they have drawn 10 or more cards in a row and gotten upset that they would have no way of winning the game. Some reassurance and skillful play of larger denominations has helped them get rid of several cards at once, but if you have a sensitive child, it is something to be aware of."
5) ThriveTime for Teens – The Money and Life Reality Game
Our final game in our list of the best board games that teach money skills is ThriveTime for Teens, which can give teens a real look at finances.
During the course of the game, players have to navigate major life decisions such as paying for college, deciding whether to utilize credit cards, starting a business, investing and more. This game even gives teens the option to give back financially to the community.
ThriveTime for Teens – Sample Amazon Review
"Just received my ThriveTime game yesterday! ThriveTime is a great educational tool for your family. As a parent you want your teenager(s) to be ready to thrive in life. This will help to get them thinking & moving in the right direction in a language (Fun Play) they will enjoy. Buy into their future today!."
Other Great Board Games to Teach Money Skills?
I hope you will try some of these games with your children and/or students!
Have you downloaded our huge list of 112 teacher freebies yet? Among the freebies are some great games you can download and print for free! If you know of any other great board games that teach money skills to children or would like to comment on the games above, please leave your comments below!