Crayola Experience is an immersive, creative, hands-on experience attraction created by Crayola, with 5 locations around the country:
Orlando, FL
Plano, TX
Chandler, AZ
Eason, PA
Mall of America, MN
With approximately 26 attractions, children can see creativity come to life. They have the opportunity to be the star of their own coloring page, see how crayons are made, and go on a 4-D coloring adventure. It's fun and educational for the whole family,
Teachers understand the need to open a child's mind to the world around them. To foster the creativity and originality that is innate in every child.  As partners in molding the minds of young children, does Crayola Experience offer teacher discounts?
Does Crayola Experience Have a Teacher Discount?
Yes! Crayola Experience gives teachers an amazing discount, in fact teachers receive a FREE Bronze Annual Pass! It doesn't get much better than that!  Except it does! The Pass Perks include:
Unlimited visits for 1 year
20% off on-site purchases
Discounts on tickets for friends and family
Passes can be used at any location, and there are special perks every month!
How To Crayola Experience Teacher Discount
Getting your discount could not be easier! Just present your teaching certificate and photo ID at the ticket counter. ID badges will only be accepted if it notates on the badge that you are a teacher. The offer is available to all certified teachers, PreK-12 grade. They can only be purchased valid onsite. Passholder must be present at the time of any additional purchases to receive additional discounts.
Other Recommendations – Crayola Experience
In addition to the wonderful Annual Pass teachers receive, Crayola Experience also offers other great perks to everyone, every day.
You can always look forward to free admission on your birthday, just bring proof of birthdate!
Buying ahead of time, you can earn $3 off ticket prices.
Children under 2 get in free!
Annual Pass Family Packs offer great savings, too. If you purchase 3 Annual passes, enter promo code FAMILY3, and get $3.33 off each pass. Purchase 4 passes, enter promo code FAMILY4, and get $4.99 off of each pass. The pass also comes with other great discounts, perks, and free tickets for family and friends.
There is no shortage of ways to save at Crayola Experience!
About Crayola Experience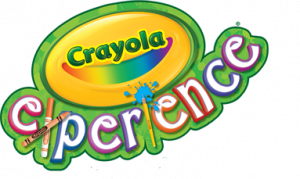 Crayola Experience is a division of Crayola, a company known for creativity. Crayola states their brand essence as the belief that "What if?" is the greatest question in the world. Crayola builds its values around freeing children's minds for creativity, originality, and allowing them to answer their "what if?" questions.