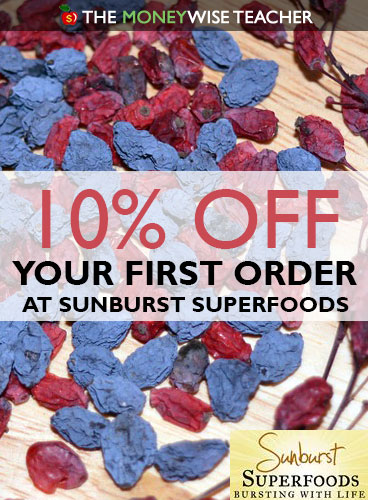 A healthy, well-fed teacher is a happy teacher! If you love superfoods or want to try them, we recommend Sunburst Superfoods, where you can purchase high quality Superfoods at some of the best prices on the internet.
Sunburst Superfoods offers organic, raw, non-GMO, and vegan Superfoods, dried at low temperatures, to supply you with a bounty of vitamins, enzymes, and nutrients for super health. They are dedicated to finding the highest quality Superfoods available and educating their customers about the remarkable reported benefits of these wonderful foods.
Click the button below to learn more and to grab your 15% off Sunburst Superfoods discount coupon!
* This is a coupon so please note that when you click the Show Code button, a separate window will automatically open to this coupon provider's website. The coupon code will be copied to your clipboard. You will need to paste that code while checking out. At the same time, a window will open on this page with the code, so you can always come back and manually grab it!