Selecting a bank is a very personal life choice and can be a tiresome process. At first, you might look at a few big names but it's always wise to dig a little deeper. Discovering the pros and cons of your banking institution is important not only for your financial safety but also when looking for the best benefits around!
As a teacher, it is vital that your banking institution provide you with the best rates for both your checking and savings account. Don't get stuck with unfavorable interest rates, exorbitant fees or unseen charges. With so many banking institutions available, what are the best banks for teachers?
Don't worry! With such a wide selection of banking institutions to choose from, we've done the legwork for you.
Whether you are looking for a brick-and-mortar or online bank, local or national, read on to discover why we chose Ally Bank and Alliant Credit Union as our top two institutions for educators to bank with.
For just savings, CIT Bank is my pick and for automated investing, I like Wealthfront.
Different Types of Banks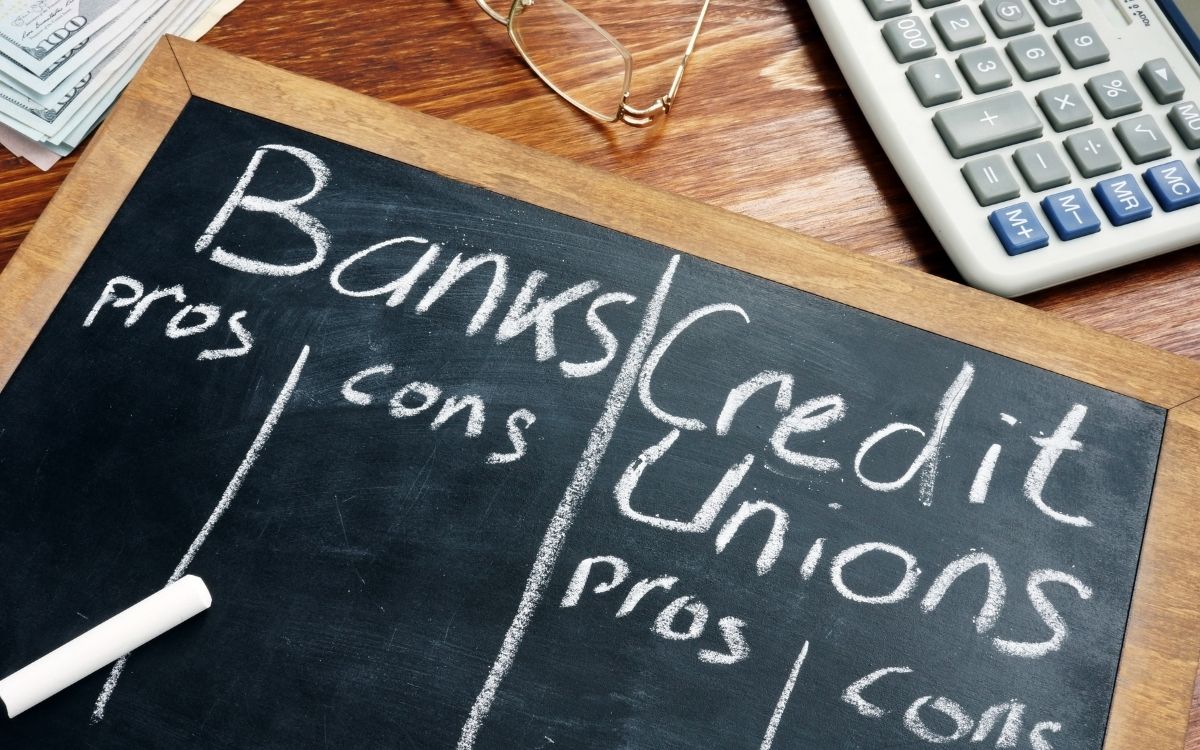 There are a variety of differences between various types of banking institutions. Each has its pros and cons but some will be better suited for your needs as a teacher. Let's look at the two major banking options you will face. Bank or credit union?
Banks vs. Credit Unions
First things first, accredited banks and credit unions will provide you with the same level of security as they are protected by federal government-backed insurance. The main difference between banks and credit unions is profit.
Banks make a profit off of their customers and pay investors with that profit. This often leads to higher fees including annual or monthly fees, overdraft fees, minimum balance fees and more. Additionally, some banks require customers to use their in-house ATMs and charge a fee additional to use other ATMs.
In contrast, credit unions are cooperatively owned by the members, or customers, of the credit union. This means that fees on transactions, overdrafts and more are directed back into the credit union.
There are no investors making a profit and all member costs are used to run the credit union itself. Because of this, credit unions are able to offer lower fees to their members and often have the benefit of using ATMs free of charge.
Brick and Mortar vs Online Banks
Brick and mortar banks can be enticing because they provide a physical location for your local banking needs. However, with the physical location comes the cost of overhead for the bank. These costs mean higher fees for customers of that bank.
Meanwhile, online banks do not rely on physical locations for banking and are able to reflect that in their low fees. Additionally, online banks tend to have the best interest rates for savings accounts, making online banking a great choice for teachers. Online banks also enlist the help of other banks when it comes to ATMs and often waive fees for all ATMs regardless of the owner of the ATM itself.
What Are the Best Banks for Teachers?
We've narrowed down two options for the best banks for teachers. After running the numbers and doing the research, it is clear that the best banks for teachers are online banks and credit unions. Both prioritize low fees and great benefits for their bankers.
Working with a teacher's income means making the smartest choice when it comes to savings and minimizing bank costs. That's why we selected the following two banks as our top picks for banks for teachers!
Related: The Best Home Loan Programs for Teachers
Ally Bank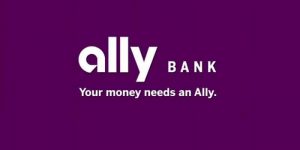 Ally Bank is an online-only bank that allows them to offer low fees, numerous perks and great interest rates for savings accounts. Online banks are able to offer these benefits simply because they do not suffer the overhead of brick and mortar locations. This makes online banking options not only more efficient but also more accessible – definitely a win-win!
Checking Account
Ally offers a single checking option: the Ally Interest Checking Account has a modest $0.10% Annual Percentage Yield (APY) for all account holders, but the Savings Account is more aggressive with a 4%+ savings rate (4.25% as of this November 2023 update).
Savings Account
Ally's savings' Annual Percentage Yield is better than many brick and mortar competitors on all balances in Savings Accounts (that's nearly 9x the national average!). An additional savings offering is Ally's Money Market accounts which also offer an APY of 4%+.
A great feature with Ally's Savings Account is the Buckets system. Within your savings account, you can organize your finances into different "buckets" to help you keep your savings organized and goal-oriented.
Other Benefits
Other benefits offered by Ally Bank include ATM reimbursement of up to $10 a month on out-of-network ATMs. Additionally, Ally Bank gives you access to over 50,000 ATMs nationwide with zero fees! Not to mention, in addition to offering Checking, Saving, and Money Market accounts, Ally also offers a variety of CDs ranging from a few months to a few years.
The crowning jewel of Ally Bank is its very accessible and user-friendly app available on both iOS, Alexa and Android. Through the app, you can just about complete every bank function you can dream of, from sending money with Zelle to using voice commands to check your balances with Alexa!
PROS
Excellent competitive rates for savings, checking, money market and CDs.
Access to over 50,000 ATMs free of charge and up to $10 ATM fee reimbursement each month.
Access anywhere by phone, mobile app or website access.
24/7 customer service.
CONS
No brick and mortar location.
Alliant Credit Union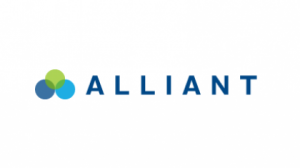 Similar to Ally Bank, Alliant Credit Union offers online-only banking with no brick and mortar spaces. This means, again like Ally Bank, that Alliant Credit Union is able to offer lower fees and better rates for its members.
In contrast to Ally Bank, Alliant Credit Union does not share its profit with investors but rather feeds the money made from its minimal fees and costs back into the credit union. This makes credit unions, in general, a wise choice for teachers as it is a self-sufficient organization with many perks and little to no drawbacks.
Checking Account
Alliant Credit Union offers a High-Rate Checking Account with without any monthly fees or minimums for your account balance. Checking accounts with Alliant are eligible for a monthly dividend payout if you meet the very accessible requirement of making one deposit each month. This transaction can be a deposit via another account, an ATM or cash deposit, or simply your paycheck or another direct deposit.
Additionally, Alliant Credit Union offers Teen Accounts for children ages 13 to 17 years old. These accounts must be jointly owned by a parent or guardian but have no minimum balance or monthly fees. However, these accounts offer helpful restrictions such as a $100 daily withdrawal limit and a $300 purchase limit. A great way to start your kids' financial education!
Savings Account
Through Alliant Credit Union you will have access to a High-Rate Savings Account with 0.55% APY with a minimum opening deposit of just $5 which is covered by Alliant! The minimum balance in order to earn dividends is an affordable $100. While there are no fees to keep this account open, Alliant encourages its customers to go digital by charging $1 each month to receive paper statements.
In addition to the High-Rate Savings Account, Alliant Credit Union offers add-on accounts known as Supplemental Savings Accounts. Similar to Ally Bank's buckets, Alliant's supplemental savings is an organizational system meant to keep your savings goal-oriented.
Last but not least, along with its Teen Checking Account, Alliant offers Kids' Savings Accounts. These accounts are offered to children 12 and younger and are co-owned by an adult family member. The Kids' Savings Account is still subject to the $100 minimum balance in order to earn monthly dividends, as well as the $1 monthly fee for paper statements.
Other Benefits
Along with its other offerings, Alliant offers a generous range of CDs from 12 months to 60 months with the highest APY being 0.65% at 60 months.
Other excellent benefits from Alliant Credit Union include the following investment and loan services:
Credit Cards
Loans – Home, Auto, Personal
Traditional and Roth IRA
Trust Accounts
…and more!
PROS
Extremely competitive Annual Percentage Yields!
Online banking means lower fees and better rates.
ATM fee reimbursement.
Family-friend services like Teen and Kids Accounts.
A multitude of services beyond basic banking.
CONS
$1 fee for paper statements.
No brick and mortar locations for in-person banking.
CIT Bank: Best Savings Rates for Teachers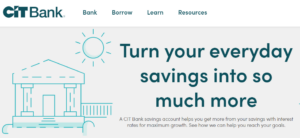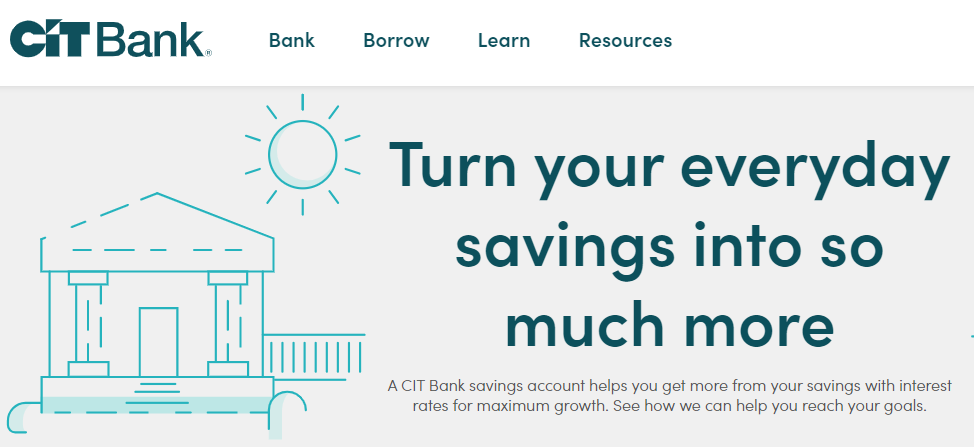 CIT Bank is a reputed online bank that offers advanced digital banking tools to help its customers save money and invest passively.
With a set of robust savings account options, automated investing features and other benefits, CIT Bank can be an excellent tool for those looking to grow their wealth over time.
Savings Account
CIT Bank offers a selection of high-yield savings accounts.
The Savings Builder account, for example, allows customers to earn a high annual percentage yield (4.65% up to 5.05% depending on opening balance – as of November 2023) if they maintain a minimum balance of $25,000 or make at least one monthly deposit of $100. This encourages regular savings habits and helps your money grow more quickly.
CIT Bank also offers a Money Market account which features competitive interest rates and no monthly service fees.
Automated Investing
While CIT Bank does not offer its own robo-advisor service, it does have a partnership with Interactive Advisors. Through this partnership, customers can access automated investing options. The portfolios are designed and managed by experienced investment professionals, which takes the guesswork out of investing and allows for a more passive approach.
Other Benefits
CIT Bank also offers a range of other benefits that make it an attractive option for saving and investing.
These include no monthly maintenance fees on its savings accounts, free online and mobile banking, daily compounding of interest, and FDIC insurance up to the maximum allowable limit. Its online platform and mobile app also make banking convenient and easy.
Best Teacher Savings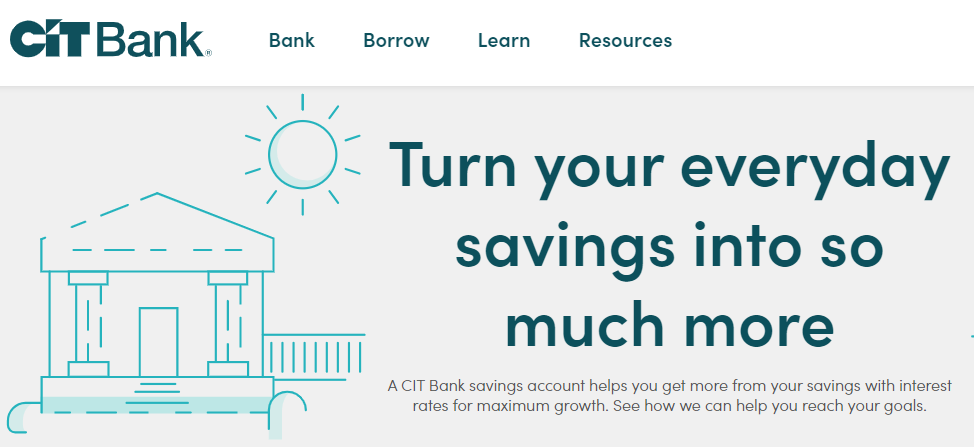 Why CIT Bank?
If you can commit to just $100 recurring savings per month OR $25,000 up front, CIT Bank is the best place I've found to park idle cash these days. Better than your local bank or credit union, CIT is one of the easiest ways to put your money to work. Easy to setup, 100% online.
See Current Rates
We earn a commission if you make a purchase, at no additional cost to you.
PROS
High-yield savings accounts that encourage regular savings habits

No monthly service fees on most accounts

Free online and mobile banking tools

Daily compounding of interest to maximize earnings

FDIC insured up to the maximum allowable limit
CONS
No physical branch locations, making it unsuitable for those who prefer in-person banking

High minimum balance requirement ($25,000) or monthly recurring deposit ($100) to earn top APY in Savings Builder account
Wealthfront: Best Automated Investing
Wealthfront is a Robo-advisor platform that offers a variety of financial services geared towards making savings and passive investing more accessible to the everyday individual.
It utilizes advanced technology to automate investment decisions, offering a hands-off approach to investing, which is especially beneficial for those who may lack the time or expertise to manage their investments.
Savings Account
Wealthfront's high-yield cash account is an attractive feature for savers. The account offers an annual percentage yield (APY) that is typically higher than the national average for savings accounts (currently 4.8% as of this writing in late 2023), allowing your money to grow at a faster rate.
It also boasts FDIC insurance coverage up to $1 million, which is significantly higher than the standard coverage offered by most banks. Furthermore, there are no account fees or minimum balances required, which makes it a flexible and cost-effective option for savers.
Automated Investing
Wealthfront's bread and butter is its automated investing service. This service uses software to build and manage a diversified portfolio based on your risk tolerance and financial goals.
You can choose from a general investment portfolio (stocks) and/or a bond and treasury portfolio optimized for high yields (close to 6% APY as of this writing).
Once your account is set up, Wealthfront will automatically rebalance your portfolio to keep it aligned with your chosen investment strategy.
This automation takes the guesswork out of investing and ensures that your portfolio is always optimized for the best possible returns.
Other Benefits
Wealthfront offers other benefits such as tax-loss harvesting and automatic portfolio rebalancing. Tax-loss harvesting involves selling securities at a loss to offset a capital gains tax liability, which can increase your after-tax returns.The automatic portfolio rebalancing ensures your portfolio stays aligned with your risk tolerance and investment goals, even as market conditions change.
PROS
Automated Investment Management: Wealthfront's technology automatically manages your investments, freeing up your time and reducing the stress associated with manual management.
Tax-loss harvesting: This feature can potentially improve your after-tax returns by strategically selling investments that have declined in value.
High yield savings account: The APY offered by Wealthfront's cash account is typically higher than the national average, making it a great place to store your cash.
CONS
Minimum investment requirement: Wealthfront requires a minimum investment of $500 to start, which might be a barrier for some individuals.
Lack of human advisors: While the platform's automation is a boon for many, some people may prefer the personal touch and advice of a human advisor
Conclusion: Finding a Great Educator Friendly Bank
Whether you opt for Ally Bank or Alliant Credit Union, both online banking institutions offer great rates for teachers and accessible options for investment, loans and more.
If you are looking for a one-stop shop, Alliant Credit Union offers an unbeatable array of services from basic banking to so much more.
Likewise, if you have already invested time and effort into building those credit card points elsewhere, Ally Bank is a convenient option for your simple Checking and Savings solutions.
For just savings, CIT Bank is my pick and for automated investing, I like Wealthfront.
Finding the right bank isn't always an easy task and it is certainly a very personal decision. However, with the run-down on our two favorite banking options for teachers, your decision just got a whole lot easier.