Appropriate clothing for teaching is a necessity, but it's yet another expense that educators have to pay for out of pocket.
There's also the matter of clothing for working out, relaxing, and hanging out with your family.
Fortunately, a number of retailers offer discounts on clothing, either online or in-store.
Most retailers require a proof of employment, but that can be as easy as uploading your school ID card. The majority of the stores on our list offer a discount between 10% and 20% year-round.
It's worth getting credentials added via SheerID or ID.me for verified teachers status.
Target doesn't JUST offer clothing, but does have a very wide selection of popular and affordable styles.
They also happen to have one of the best teacher appreciation and loyalty programs with Target Circle. Once approved, qualified educators take 20%+ off of all their clothing purchases from target.
How to get approved to Target Circle?
Sign up for a Target account (if you don't have one already).
Sign up for Target Circle here
Upload your teacher identification and documentation
See the latest discounts and deals, specifically for teachers
Whether you enjoy casual days at home in front of the TV or early morning workouts, Hanes has you covered. Hanes offers a variety of casual styles and undergarments for men, women, and children, including workout clothes from Champion.
Hanes offers a 10% discount to both current and retired educators. Teachers must verify their status using the ID.me website here, which requires teachers to upload proof of certification or employment. Then, Hanes will send the teacher a one-time 10% off code to use on the website. 
Crew is a well-known brand of "preppy" clothing for men, women, and children, including denim, cashmere, dresses, and accessories. 
College students and teachers get a 15% off discount when purchasing from J. Crew online, but they must confirm their educator eligibility with a valid school ID first.
J. Crew's process works via SheerID, but you have to start the process here.
Madewell, a division of J. Crew, is a female-focused brand of casual clothing. Like its parent company, Madewell also extends a 15% discount to teachers and college students who upload proof of employment or enrollment. 
To access these discounts, you'll first have to get verified via their process here.
The always popular Crocs actually DO have a great teacher discount, but it's not immediately obvious how to find it.
If you've used (or already have) a profile with ID.me, this is the same system Crocs uses to verify your status as a teacher. Verified teachers get a blanket 20% off all styles and selections. The only restriction is these must already be full price and can't be discounted before applying the teacher discount.
Under Armour also offers a generous 20% off discount for teachers, but it's really difficult to find this out unless you already know about it!
To access the discount (for teachers, military and first responders), you need to actually have items in your cart and progress to the checkout phase (not the first stage where you "apply discount code" but the next one after clicking "proceed").
Then, you'll need to verify your teaching and educator status via ID.me or sync your account if you already have it setup. Then you are good to go!
Girlfriend Collective's popular array of athletic and athleisure fashion offers a fantastic 20% off for teachers (as well as military, first responders, and healthcare providers).
Like many of the other fashion brands listed here, you'll need a valid ID or paystub to establish your teacher status via ID.me. Once this is set up, you'll be able to apply this unique discount at checkout for all purchases from GC.
Ray-Ban has a solid 15% off teachers discount and uses the same ID.me system as others on this list.
It's easy to miss the option as it's a grey box in the bottom right corner that you have to toggle just before checkout.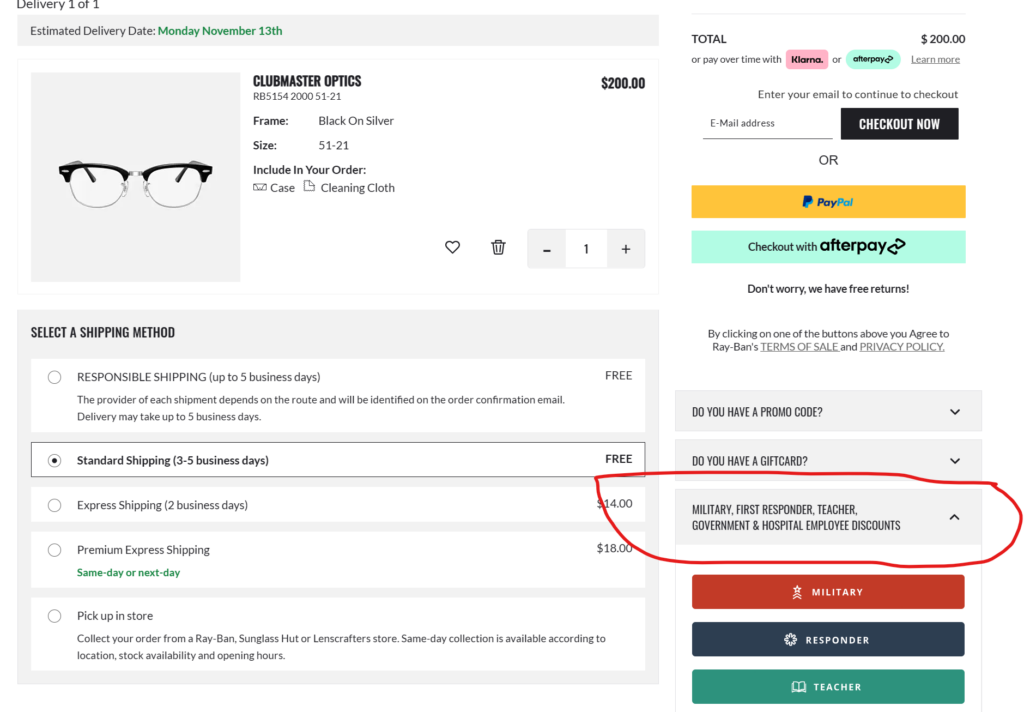 Note, these discounts are limited to a maximum spend of $500, aren't stackable with other coupons and may not apply to some new launches, limited editions or Disney, Ferrari co-branded merchandise.
KarenKane is a women's clothing brand with plus size options as well as accessories like jewelry and handbags.
Teachers, faculty, and staff at a K-12 school or university can receive 20% off every purchase at KarenKane.com. Teachers need to fill out a form and attach documentation through the ShreerID system just once to be eligible for the discount.
If you don't already have a Karen Kane account, you'll also need to sign up here.
Each year during Teacher Appreciation Week (including Teacher Appreciate Day) in May, Old Navy offers a 25% discount to teachers. Teachers just need to show their school ID in store to be eligible. 
NOTE: There is no standing exclusive discount outside of Teacher Appreciation Week, but can check their special discount offers for the current promos
Bonobos may have started as "just a menswear brand", but their socks are for everyone and some of the most comfortable "teaching socks" out there.
Bonobos gives a 20% discount to teachers. Teachers must fill out an online form to verify their employment at an educational institution (via SheerID) before they receive their discount.
This IS a standing discount and promotional exclusive offer that's been available for the last few years, so no exclusive periods. Use anytime!
Rothy's is a shoe company that makes comfortable women's shoes from recycled water bottles. They come in many different styles, including sneakers and flats, as well as a variety of colors and patterns.
For a limited time every year, Rothy's offers a 20% discount on teachers, students, first responders, military and medical professionals. Teachers must verify their eligibility via a form on Rothy's website here to qualify for teacher status.
Zappos, one of the most well-known websites for shoes for the whole family, offers a discount for both students and teachers. 
Military members, students, and teachers all receive 10% off their purchases on the website when they verify their eligibility.
Unlike with most other websites, your verification only lasts one year, at which point you must re-verify your eligibility. 
UPDATE: Zappos recently discontinued their educator discount program, but we are tracking a few additional ways to save on this page here.
Champion, the American sportswear company owned by Hanes, is a popular choice for anyone who likes working out. 
Just like on the Hanes website, Current and retired teachers alike can receive a 10% off at Champion.com when they verify their eligibility through the ID.me program here. 
Toms are a favorite shoe with educators because they're comfortable enough to wear all day and stylish enough for them to wear to work. Toms also offers a 10% discount to teachers and students who verify their status through SheerID. 
UPDATE: Tom's has unfortunately discontinued this discount program, but they do have rotating seasonal discounts of up to 30% off here.
Eddie Bauer, which specializes in outerwear and camping gear such as backpacks and tents in addition to clothing for men, women, and kids, offers a 10% discount when you show your school ID in-store. 
NOTE: This offer is ONLY available in-stores and not available online, although there are some generic online-only discounts here.
NY and Company, a retailer of affordable and trendy clothing and accessories for women, sells brands from celebrities like Kate Hudson and Gabrielle Union. 
NY and Company's Big Apple for Teachers Program gives teachers 15% off in-store purchases and other discounts via email throughout the year.
NOTE: This is only available as an in-store discount. There are still some good online seasonal deals worth considering here.
Dagne Dover sells bags in styles for every lifestyle, from backpacks to clutches. 
Dagne Dover gives a 20% discount to teachers, military, and healthcare workers. Teachers must sign up for an account then integrate their teacher status using ID.me here, at which point they will send you a discount code.
In addition to these discounts, the site offers free shipping and a customer referral program that gives you a $25 store credit.
Yes, Sperry's does have a great teacher discount program! Another comfortable shoe choice among hard-working teachers, Sperry's sells boat shoes for men, women, and children.
They also have a clearance section of their website, where you can find deals up to 60% off.
Teachers who join the Teacher VIP Membership program receive 15% off and free shipping online
It's a bit tricky to access this program as it's changed recently and the old page link doesn't work. Navigate to the footer section of the Sperry's website, then click the "Teacher & Students" discount tab: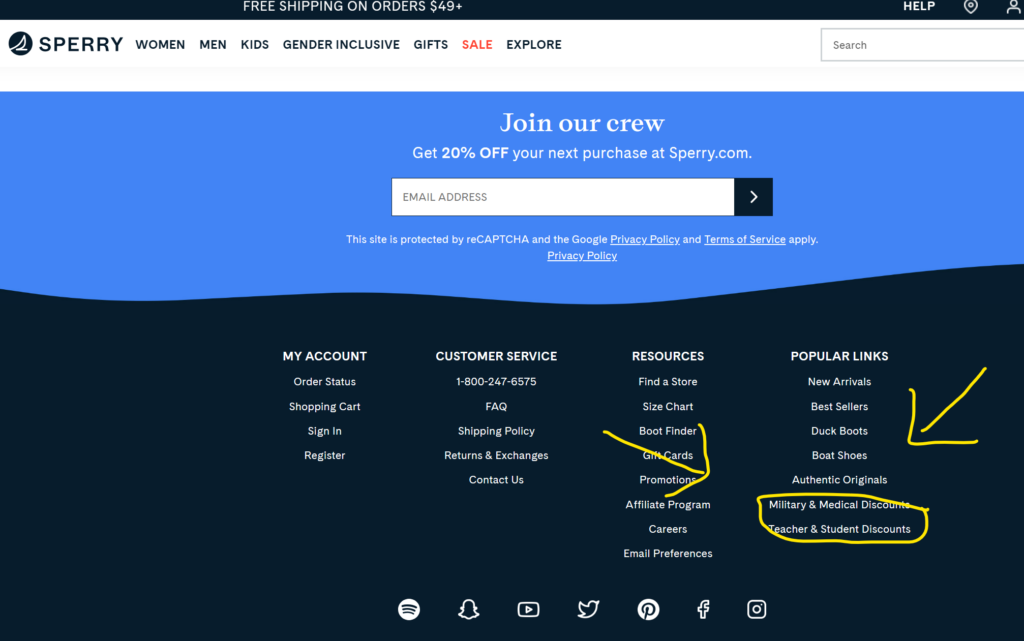 Then, you can navigate the ID.me verification process.
Internationally-known Tommy Hilfinger is a high-end brand of preppy clothing and housewares for every member of the family. 
Tommy Hilfiger gives teachers, students, and military members 15% off. Teachers will need to navigate to this page and then follow the steps to integrate with ID.me.
For all of the hiking and fishing you may be planning to do this summer, Columbia Sportswear has you covered.
All teachers or education support professionals who work for programs that support outdoor activities or sports can receive a discount when they apply on the website. 
To get verified just go to this page and follow the ID.me instructions for 10% off.
Banana Republic, a design of Gap, focuses on versatile clothing for modern men and women. 
Teachers and students can receive a 15% discount on full-price items when they show their school ID while shopping at the store.
NOTE: This discount is ONLY available in stores. For similar online discounts, check this page for the latest seasonal and rotating promos that can be used on the website.
Teachers who just can't seem to find the right shoes may want to check out Aerosoles for their comfy flats, heels, sandals, or boots. 
Teachers receive 15% off any purchase of $39.99 or over when they show their school ID at checkout when shopping in the store.
NOTE: Aerosoles teacher discount is available IN STORE only and the discounts don't carry over online for teachers.
Everyone's favorite retailer of clothing, footwear, outdoor equipment, and home supplies, L.L. Bean is the place to go when you want to get out and get active. 
L.L. Bean gives both teachers and students a 10% discount code when they fill out a form here to verify their eligibility (LL Bean uses SheerID for verification). Teachers must include their school name and school-issued email address.
Women's apparel brand Ann Taylor LOFT sells more affordable dresses, tops, and businesswear than Ann Taylor, which already makes it a favorite with cost-conscious teachers. 
Teachers who present a valid teacher ID when they shop at an Ann Taylor LOFT store receive a 15% discount. This standard 15% discount is ONLY available in store (not online at this time). 
Teachers can also sign up to receive special teacher-only offers in their inboxes by filling out a form on the site.
Conclusion – Teacher Clothing Discounts
Teachers have very active lives. Whether you're circling a busy classroom, grading essays in front of the TV, or chasing around your own children, you want to be stylish and comfortable. These discounts will help you save some money, which you can set aside for emergencies or other necessities.
Related Articles