Do you need an amazing teacher desk for your classroom?  Look no further! Here we have put together a review of 6 of the best desks for teachers currently available.
[Please note that we might share a small portion of the sales from the links on this page. We only share products that we truly love and recommend. Now onto the awesome teacher desks for you.]
What is the Best Teacher Desk Currently Available?
Here are Our Picks for the 6 Best Teacher Desks:
No products found.

No products found.

No products found.

No products found.

No products found.

No products found.
---
1)
No products found.
Balt Stand Up Mobile Teacher Workstation Desk. Click the photo to see the price on Amazon.
We start our list of the best teacher desks with the stylish and versatile No products found.. It is an alternative standing desk option for those teachers that want a more upgraded and even modern learning space.
This stand up mobile teacher workstation is perfect for any classroom arrangement. The strong wheels are connected well, and the casters are built to deal with many years of wear and tear.  The stand's interior has great ventilation so that your device will stay cool. The locked cabinet is great for storing teaching materials or lunch.
This teacher desk is, of course, easy to move around the classroom so that you can maintain a fresh perspective! Furthermore, the rounded design of the top lends itself to being able to push around to a variety of locations.
One small nuisance that some teachers mentioned was that the wheel locks tend to fall into the locked position when stationary.  However, this was a very small complaint among otherwise fantastic reviews.
Of all the teacher desks we feature, this one is the most unique and also has the most rave reviews!  This teacher desk on wheels is perfectly suited for the modern classroom.
Also, if you love this kind of desk, be sure to check out our list of the best standing desks for teachers.
---
2)
No products found.
Learniture Steel Double Pedestal Teachers Desk. Click the photo to see the price on Amazon.
Second on our list is the No products found..
This elegant desk features two pedestals as well as locking side drawers for all of your supplies. The high-pressure laminate desktop is easy to clean, and the steel frame is scratch resistant. It has that more traditional desk appeal you typically find in a learning space.
There are leveling glides on the legs that help to ensure an even work surface. There is also t-mold edge banding that helps protect the desk. Two grommet holes will help you with wire management as well.
This modern teacher desk is built well and looks great. We're also happy to note that it comes with a lifetime limited warranty so you can purchase with peace of mind!
---
3)
No products found.
OFM Mesa Series Teachers Desk with Laminate Top. Click the photo to see the price on Amazon.
The No products found. is both functional and attractive. With a 16-gauge steel frame, it is built to last as well. Features include a scratch-resistant powder coat paint finish, locking pedestal, and center drawer as well as full ball bearing center drawers.
This desk is huge, with lots of room for your books and other teaching materials. The size and weight is one drawback when purchasing. It can take a while to unpack and set up. However, most agree that this beautiful desk is worth the trouble!
All-in-all a great classroom teacher desk option.  This one is durable and built to last.  It should survive even the rowdiest of classrooms!
---
4)
No products found.
Sandusky 600 Series Steel Double Pedestal Teachers Desk. Click the photo to see the price on Amazon.
Continuing our review of teacher desks is the No products found..
This desk is built for comfort and safety. It features a laminated wood top work surface with vinyl covered edges and rounded corners.
There's a 6″ rear overhang, perfect for student conferencing. Keep your teaching materials safe with the central locking system that locks all drawers.
Teachers who have gone with this option have said that they are just the right size and the drawers offer ample storage space.
Highly recommended!
---
5)
No products found.
Sauder Edge Water Computer Desk. Click the photo to see the price on Amazon.
The affordable but sophisticated No products found. is another great teacher desk option.
This desk has a spacious tabletop for all of your teaching essentials. There's a storage area that can hold a vertical computer tower, as well as two drawers that roll smoothly on metal runners. The lower drawer holds hanging files and is built to help you organize your papers.
Teachers who have purchased this desk mention that it does take a good amount of time to put together. However, it does come with easy to follow, step-by-step instructions.
Again, not only is this teacher's desk stylish, but compared with our other reviewed teacher desk options, it is also easy on the wallet.
---
6).
No products found.
Learniture Single Pedestal Teachers Desk. Click the photo to see the price on Amazon.
Rounding up our list of the best teacher desks is the sleek, modern No products found. from Learniture. This teacher's desk has a steel base and a laminate top that is easy to clean.
The dual locking drawers provide lots of storage space and will keep your teaching materials safe. This desk is sure to have an even work surface with its leveling glides on the legs.
Another strong and sturdy teacher classroom desk from Learniture that should last you a long time.  As with other Learniture products, this desk has a lifetime limited warranty.
This one has the highest teacher recommendation!
---
Teacher Desk Alternatives
Desks come in different sizes and styles.
Some may be double pedestal desks, while others have a single pedestal or none at all. Some may also have a center drawer for smaller school supplies, while others feature drawers with locks and keys.
Now that we have shown you some of the best teacher desks in 2020, let's take a quick look at some teacher desk alternatives you can also consider.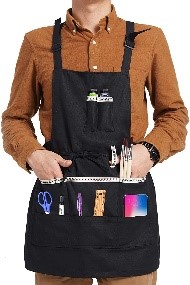 An Apron. It may sound strange, but if you are a teacher constantly on the move in the classroom, it may make perfect sense for you. While it can't hold a cup of coffee or a laptop, an apron is a good alternative for teachers who are looking to save some time in the classroom. You won't have to search for things in the desk or walk across the room anytime you need school supplies. They are all there within your reach.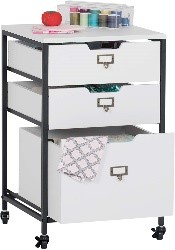 Office Cart. If you have a hard time keeping your desk organized, you can try to store the items you need in a rolling office cart. You can roll the cart to each student's desk when needed, and it can hold all your school supplies and important items that you will need to get through each day.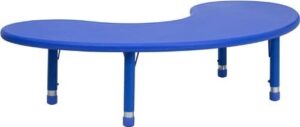 Collaboration Station. This is also known as a kidney table. The one you might remember as kids in elementary school. A kidney table offers a good amount of useable desk area, which can help maximize productivity throughout the day and can help with student and classroom management.
Maintaining an Organized Teacher Desk
A teacher desk is designed to last throughout years and years of teaching. So, you don't want to settle for anything that doesn't offer you the longevity and durability you expect.
You will also find some desks that have ample storage and a spacious work surface. So, it can be easy to clutter the desk and its drawers, causing chaos and disorganization. Here are a few tips for maintaining a more organized teacher desk.
Only Keep Essentials
When keeping your desktop clean and uncluttered, you should only keep the essentials close at hand. Some essentials you might need and find yourself reaching for often throughout the day include a stapler, pens and pencils, a pencil organizer, sticky notes, tape, and a lesson plan book.
Dial Down the Knick-Knacks
A lot of students love bringing their teacher those cutesy teachers themed knick-knacks and gifts for their desk. However, with so many students, these items can soon clutter the desk area, leaving the teacher with minimal space.
Instead of proudly displaying these items on the desk, consider putting in a filing cabinet, bookshelf, or other shelf you can have behind the desk. It is a good way to show your appreciation without taking up space you need at your desk.
Organization
Another way to maintain your desk is to keep it organized. To do this, you may find yourself in need of containers and organizers. File folders, pen holders, and bins are all good for organizing what you have on your desk.
Best Teacher Desks – Thank you for Reading!

We hope you will share some of these fantastic teacher desks with the special teachers in your life.  Be sure to check out our other classroom furniture reviews, like our reviews of the best classroom drying racks, standing desks for children, classroom bookshelves, and easels!