If you are a teacher looking to buy a home and need help with financing, please consider some of the special mortgage programs that cater specifically to educators. Here we cover three of the top programs that offer teacher home loans.
Why Should you Explore Teacher Home Loans?
First off, these programs were created with educators in mind.  They may offer some perks and/or discounts that you may not get from traditional financing options.  Whether it's a donation to your school, discounted closing costs or lower interest rates, teacher home loans might very well be what you are looking for when you wish to finance the purchase of a home.
Here are 3 of the best teacher mortgage programs for professional educators:
Educator Mortgage Program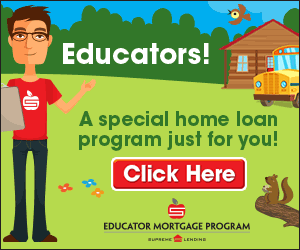 This is a really interesting program from Supreme Lending that anyone in the education industry is eligible to apply for.  The highlights of the Educator Mortgage Program include:
Discounted Closing Costs – Supreme Lending is offering up to $800 in reduced closing costs to educators.  If you qualify, you will receive a credit on your HUD-1 settlement statement for up to $800.
Discounted Real Estate Agent Fees – The Educator Mortgage Program looks to work with real estate agents who want to give back. As an educator, you will receive a credit on your HUD-1 settlement statement up to $800 from participating Real Estate Agents. These funds can be used for any fees, prepaids, seller fees, or new escrow account set up for your new loan.
Fast Loan Process – Supreme Lending emphasizes that educator clients are given highest priority. Educator loans are handled expeditiously so as to ensure "a smoother and more enjoyable experience."
Donation to Your School – With the Educator Mortgage Program, a donation of to $200 will be made to the school program of your choice. If you work with a participating real estate agent, an additional $200 will be donated, for a total of $400, to the school program of your choice!
Visit the Educator Mortgage Program's website for more info on their teacher home loans.  They offer various home buyer mortgage programs for educators, including FHA loans, Fannie Mae, Freddie Mac, VA, USDA, Jumbo and many more (see descriptions of some these programs below).
Teacher Home Advantage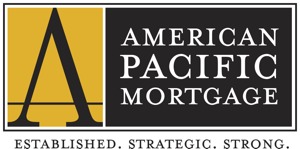 The Teacher Home Advantage program by Pacific Home Mortgage offers various options for teacher home loans.   These range from:
FHA Loans – Federally backed loans with a low fixed rate, great for the educator who is a first time home buyer.
Conventional Loans – These are not backed by the government and usually  require a larger down payment.  However, one advantage of these loans for teachers is that monthly mortgage insurance is not generally required.
USDA Loans – 0% down loans that are insured by the government.  These loans are only offered in "rural" areas.  The fact that these loans require no down payment puts home ownership within the reach of many teachers and other educators.
VA Loans – If you are a veteran, this could be a great option for you.  Like the USDA loan, it does not require a down payment.
Home Path Program – This program is only available for the purchase of Fannie Mae owned homes.  It offers educator borrowers low down payment options, flexible terms, no mortgage insurance and no appraisal fees.
"Making Home Affordable" Program – Teacher Home Advantage works directly with this program.  Basically, it includes opportunities to help borrowers make their monthly payments more affordable.  In other words, it allows homeowners the chance to decrease their current mortgage payments, even if they're "upside down" in their home.
Teacher Next Door – This program (more specifically HUD's Good Neighbor Next Door Sales Program) offers Pre-K through 12th grade teachers the opportunity to make a contribution to community revitalization while receiving a substantial 50% discount on the list price of a home.  The limitations of this program include that you must commit to live in the property for 3 years, and the qualifying homes are located in HUD-designated revitalization areas only.
Learn more about these different programs and what the Teacher Home Advantage offers educator clients here.
NEA Home Financing Program®

Offered through Wells Fargo Home Mortgage, the The NEA Home Financing Program® is offered as a benefit of the NEA Member Benefits program.
Some of the features of this program include:
Competitive interest rates & fees
Low down payment options
A wide variety of home financing choices
Conventional and jumbo loans, with both purchase and refinance programs available
As an NEA Member bonus, you'll receive a $500 award card when you close a purchase or refinance
Learn more about the NEA Home Financing Program® here.