This year I started homeschooling my special needs son. The one thing he struggles with the most is what he needs to experience the most – socialization. Yet it wasn't working for him at school, and I found myself getting called to pick him up early almost every day. After several weeks of calls, I finally decided to pull him out and homeschool him the following year. But at the same time, he really needed to have opportunities to learn to build relationships and make friends. I wondered, how do homeschoolers make friends?
Fortunately, it is very easy to find ways for homeschooling kids to make friends in this day and age. And with the circumstances surrounding COVID-19 that introduced a wealth of online resources, it has become even more accessible. For instance, there are Facebook groups in every county and city geared toward homeschooling families looking to get their kids together for interaction and fun.
Places such as museums, zoos, and wildlife rehabilitation centers that typically have tours for kids on school trips will also open their doors for homeschooling families to come in groups. Many gyms, such as the gymnastics school where my middle son takes tumbling and even the YMCA, where I used to teach Homeschool PE, offer programs for homeschooling families to participate in activities. 
How to Find Homeschoolers' Groups Online
As soon as I decided to homeschool my son, the first place I went for information was Facebook. I just searched for homeschool groups in my county and city, and there were many results to choose from. Things such as:
East Volusia Homeschoolers
Volusia County Homeschoolers
Special Needs Homeschooling
Coastal Volusia Homeschoolers
There are even groups that are geared more toward a unique population, such as these below: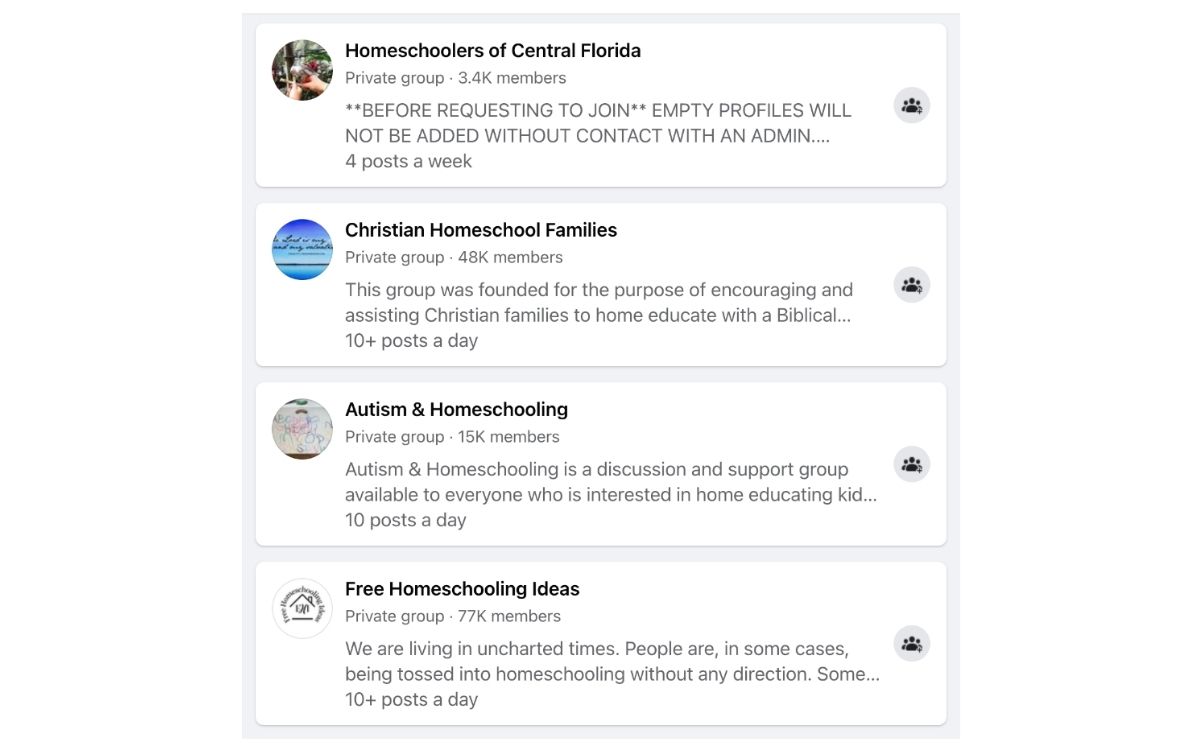 There will also be a section for events in your area, such as these: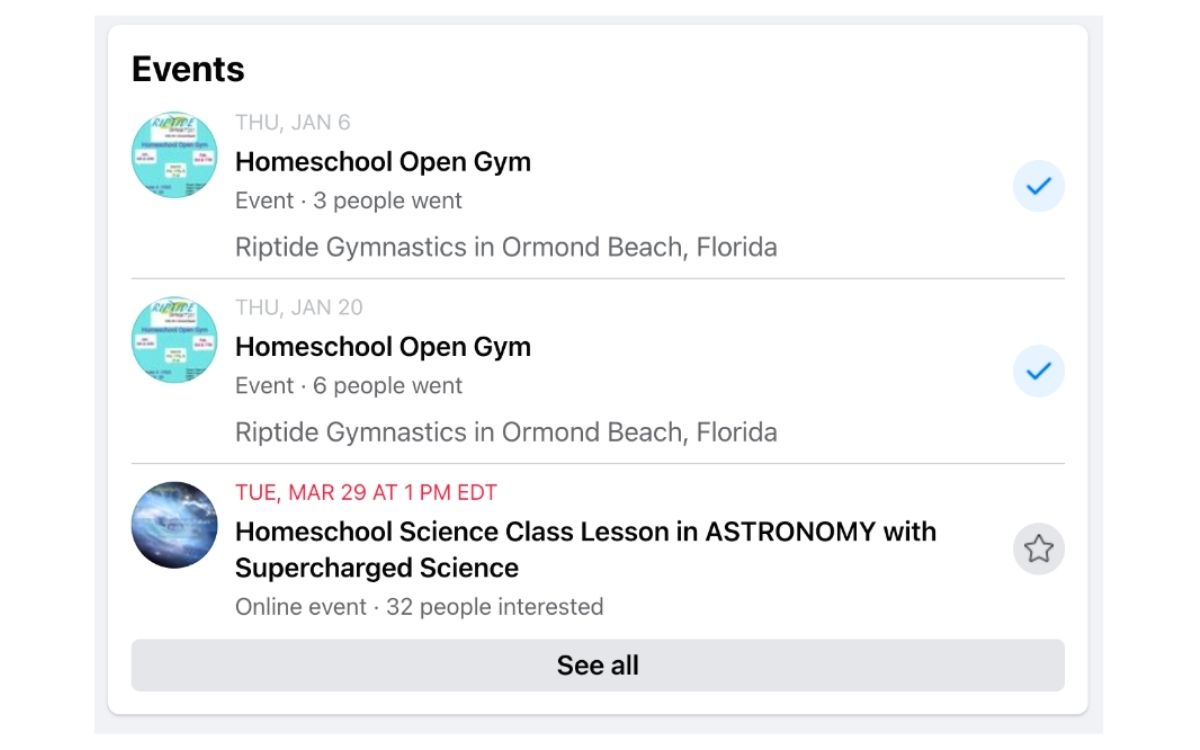 These groups are generally very active, and you will be able to meet many new families to keep your child engaged. Often when attending one group, other members will let you know about other groups and events they are taking part in, and before you know it, you will have your own community! If you aren't on Facebook and wish to find homeschool gatherings near you, you can search for a particular group by state on the Homeschool Legal Defense Association's Homeschool Organizations page. Below I put in a general search for groups that get together for kids interested in STEM (Science, Technology, Engineering, Mathematics) activities.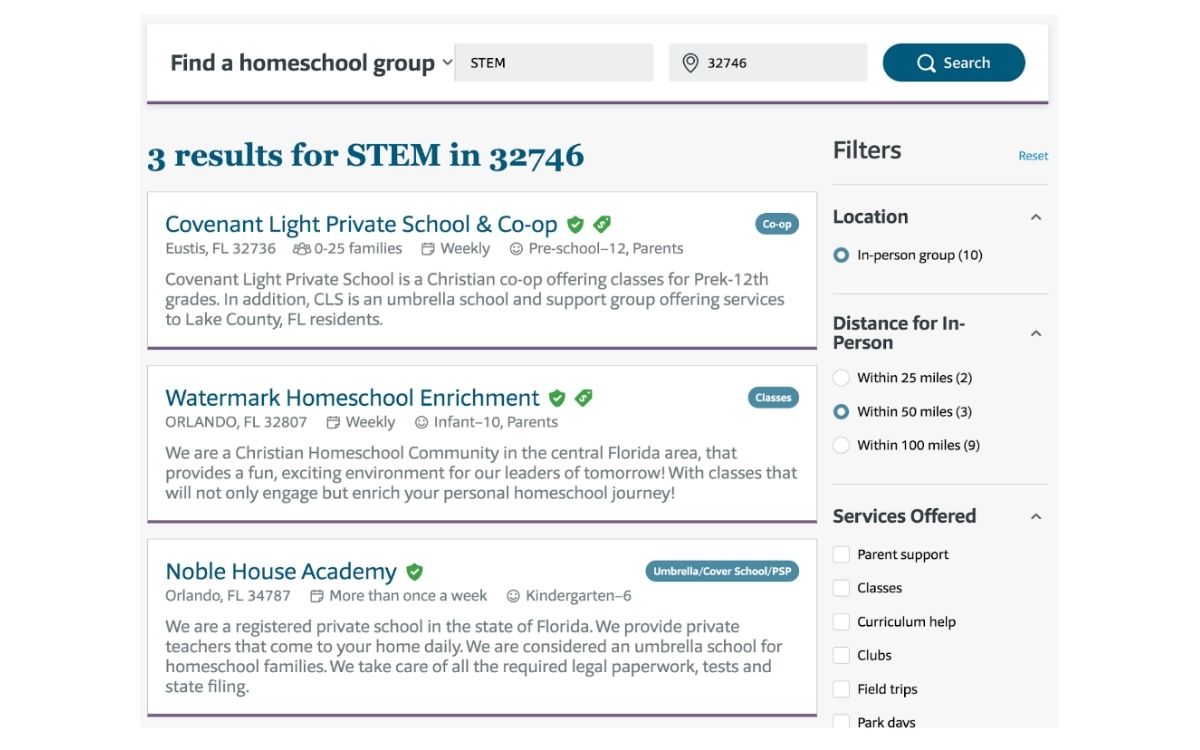 Ways to Find Homeschool Groups Without Going Online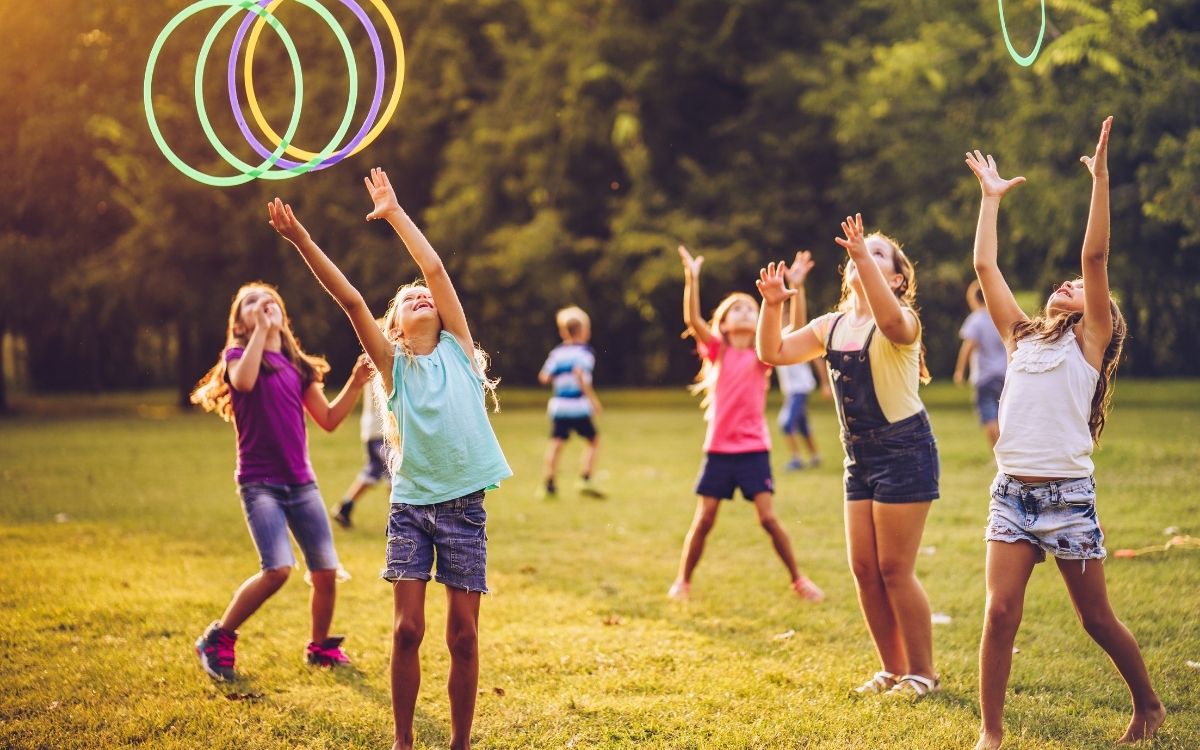 Visit Kid-Friendly Places During School Hours
A way to find people who are meeting together is to visit kid-friendly places during regular school hours. If you go to your local playground, library, museum, trampoline park, or indoor park, you will likely find groups who are already meeting there. Here would be your opportunity to approach an adult and inquire about their activities. If they are an active homeschool group, find out how you can join. They are generally very welcoming.
Check Churches in Your Area
My church, as well as several other churches in the area, all have homeschool co-ops that take place one or two days a week. It is usually led by parents who volunteer to help kids in a group with special interests they may have. For instance, there may be a parent who is an artist and desires to teach the kids painting. Or another parent who is bilingual may teach a Spanish or French-speaking class.
There is a group in my area that even has a surfing class at the beach and a skateboarding class. Many people have a wealth of knowledge right in your community, and they love to share what they know with others. Participating in a co-op such as this provides children with a variety of teachers and gives the parents a break from teaching their own children.
Host a Homeschool Event
Once you've met people through the avenues above, you can venture out and have your own get-together. In one of our co-ops, they hold outdoor projects for older and younger kids as part of an assignment. One week, the topic was the solar system. All the kids worked on a project about the solar system and then presented it to the other families one evening at a park. Everyone brought a meal to share, and the kids ate and socialized and then gave their presentations in front of everyone else. Because there were various ages involved, younger kids learned things from the older children. It was a lot of fun!
Contact Your Local YMCA
As I mentioned above, I used to teach a Homeschool PE class at the YMCA where I worked. I had a class of about 17 kids ranging from six years to seventeen. Sometimes we did activities such as obstacle courses where all age groups could have fun, and other times we played team sports, which was challenging due to the broad age range. However, the teens had fun just chatting while others were up to bat, and the little kids loved playing sports with the big kids.
The Public School System and After School Sports
Some school districts will allow homeschoolers to participate in afterschool sports. In our county, middle schoolers and high schoolers can try out for football, baseball, swimming, volleyball, and basketball at the various middle and high schools in their area. They may also be able to try out for cheerleading. This is an excellent way for tweens and teens to socialize with their peers.
There are also county sports leagues that don't have anything to do with school. You can usually find sign-ups posted at your local parks when tryouts are about to happen.
Ways for Kids to Socialize Online
Outschool
Outschool is an online market for virtual classes of all kinds for children of all ages. It's based in San Francisco, but teachers are from all over the world. The classes are pretty affordable, and there is such a variety. They usually start at pre-school age and have classes like circle time and learning your letters and numbers. They are taught by actual teachers with credentials or just parents and students who have an interest in a specific area. It is impressive how interactive it is.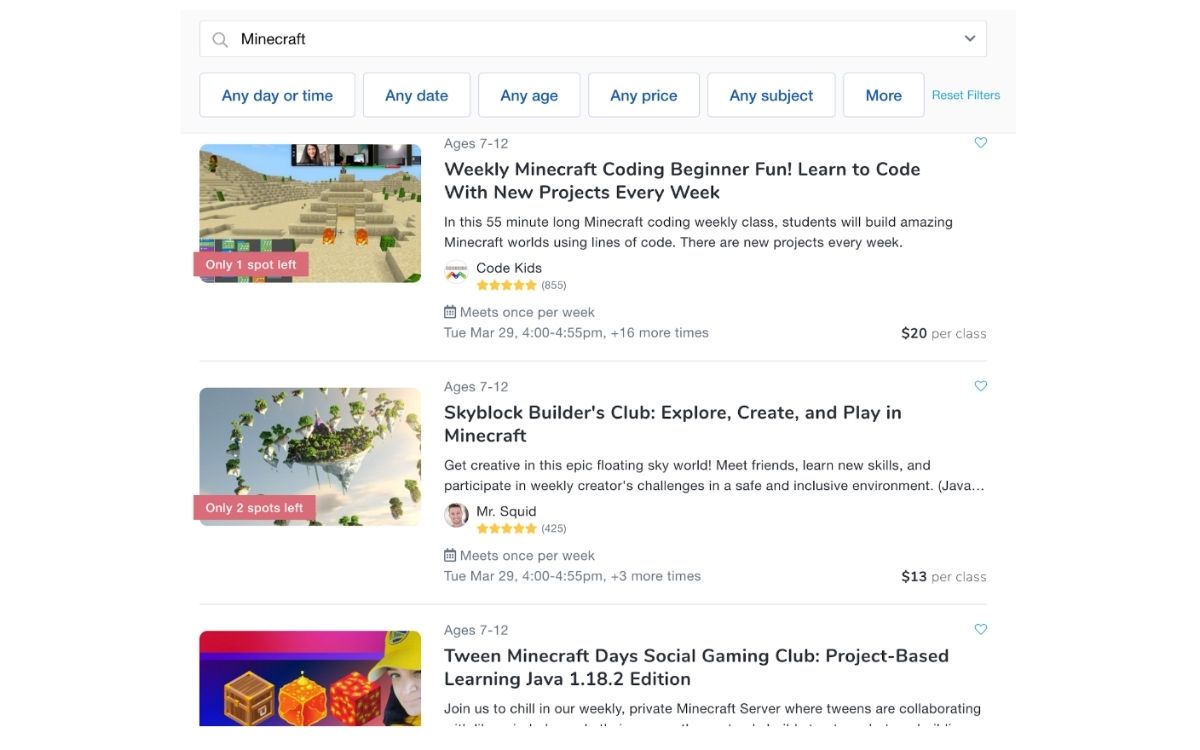 Here is a basic list of some of the activities you can find on Outschool for your kids.
Language
Learn American Sign Language
Ongoing Dual Language/Intermediate, Conversation Spanish
Cool Kids Conversation Club: Reading Minds Through Body Language
Korean Language Beginner Conversation Club
Gaming
Call of Duty: Warzone Gaming Club
Jungle Explorers Survival Club: Brave the Tropics in a Custom Minecraft Server
Adopt Me (Roblox) Weekly Gaming and Social on a Private Server (Age 9-13)
Coding & Gaming Club: Crack the Game Design Code!
Dance
Kids Hip Hop Dance Jam
Encanto: We Don't Talk About Bruno – Dance Routine
Hip Hop Dance Class and Choreography
Intermediate Ballet With Miss Lexa: Disney Series
Clubs
Warrior Cats Club (Ages 10 – 15)
Sudoku Club for Young Minds! (Ages 7-12)
Learn Piano and Have Fun for All Levels
Lego Weekly Stem Challenge: Lego Builders Club (Ages 5-10)
Anime
Drawing Anime Bodies
Let's Get Social With Anime (Ages 15-17)
Anime Creative Writing
Anime Appreciation Watch Club (TV14) Group A Watch and Discussion
This is just a tiny sample of what Outschool has to offer. My son, who has trouble forming relationships and socializing, gets to interact with other children in a way that feels safe for him three times a week, taking Circle Time for Kindergarten and then once a week, taking a Minecraft Social Building Club where kids ages five to seven meet and play Minecraft and show each other what they've built or how to build something while discussing what interests them. Outschool also offers regular learning classes for all grades, and everything is done through a secure version of Zoom.
So You've Found a Group. Now What?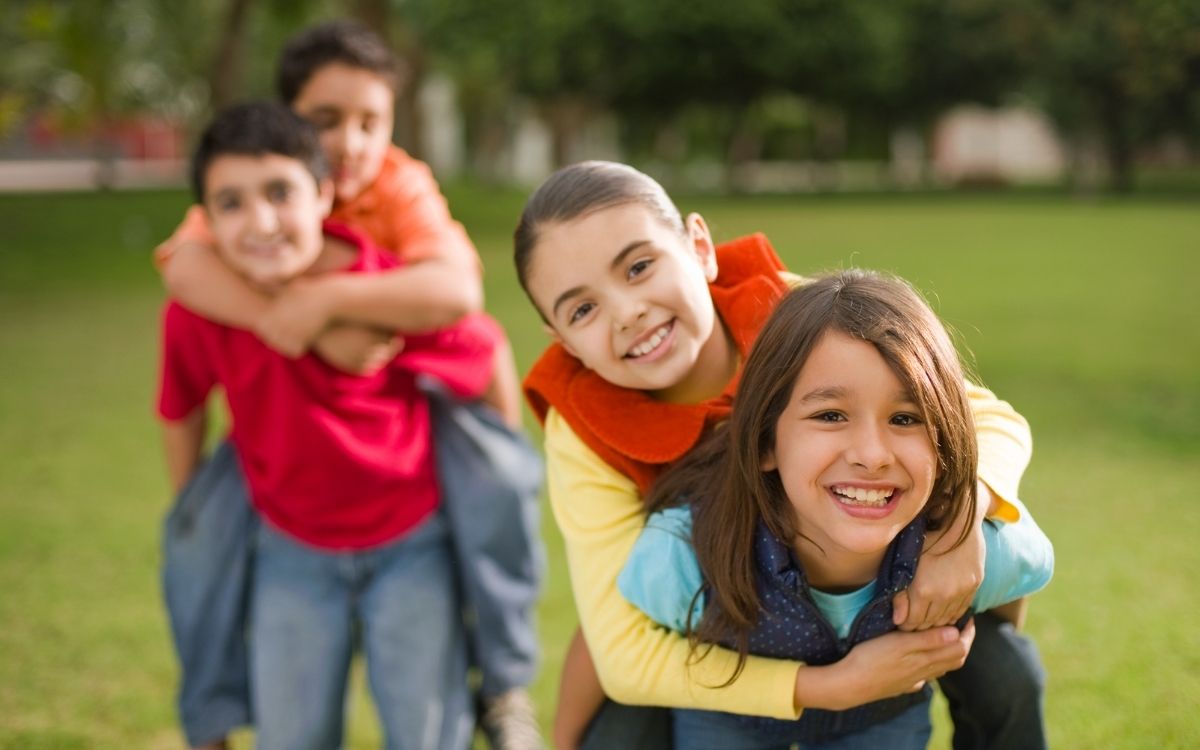 Now that you've found regular activities that your kids enjoy, you can just sit back and watch as your kids build genuine lasting relationships, right?
Wrong!
You may find yourself in situations like I have where your kids have a lot of fun while engaging in the activity you have planned, but little else develops outside of the group. When this happens, you need a plan.
After you find the groups your kids really love, make sure you attend them regularly at the same time every week. This way, your children will be more likely to run into the same kids, and there will be a good chance for friendships to develop.
One mom describes the challenge she had with her daughter when they moved to a new neighborhood. She first decided to sign her daughter up for scouts and then enrolled her in a short-term scouting summer camp. When her daughter made friends there who were also homeschoolers, her mother switched the co-op they previously attended to the one her daughter's new scout friends attended. She also signed her kids up for sports that the other kids were involved in. Pretty soon, the children were seeing the same group of friends several times a week. Just like school!
With the list above and the strategies outlined at the end, your children are sure to find long-lasting friendships that will keep them busy and give you the peace of mind you need knowing that they aren't missing out on much-needed socialization by attending school at home.
Related Articles