5 Top Rated Kids Learning Globes Reviewed
Interactive kids learning globes can be a fun and engaging way to teach geography to kids. Here we share 5 of the highest rated learning globes for children that are both awesome and affordable!
1) Oregon Scientific Smart Globe
We start our list of kids learning globes with the Oregon Scientific Smart Globe. This learning toy allows kids to learn over 2000 fun facts, listen to national anthems of different countries, history and more.
Included with this smart globe are 19 engaging games that help teach kids about world facts. And recently, Oregon Scientific has built in an augmented reality component to this globe that allows children to use the Oregon Scientific app to bring the globe to life with animals and dinosaurs!
Most reviews for this product are very positive, with a common complaint of this particular learning globe being that the default setting can be too loud.
Oregon Scientific Smart Globe – Sample Amazon Review
"This may be the most wonderful gift I ever bought my grandson!! There are so many functions, ways to quiz yourself, and I'm learning too. He loves world geography and this globe has it all. Languages, money, fun facts,capitols and so much more. I love the USA map on one side, he says the state and the capitol before he touches it just to check himself. It came with the batteries and was ready for play right out of the box. I like that it says goodbye when he turns it off, so no wasted batteries from being left on. He is seven but this is great even for high school kids. The shipping was Amazon Prime fast, and the price was right. I'd recommend this to anyone. What a fun way to learn!"
2) 3-in-1 Illuminated World Globe
The 3-in-1 Illuminated World Globe is not only a kids learning globe, but also a constellation map and nightlight! This globe also features an interactive globe app.
The 3-in-1 Illuminated World Globe – Sample Amazon Review
"This is a wonderful globe! Some of the reviews made me afraid it was going to be cheap or something, but it's not! It's bright and colorful, the smaller size is perfect for fitting on a desk or dresser easier, the plug and switch work fine, and the constellations night light feature is just so super cool. At first, when I flipped the switch I thought the light wasn't working, but then turned off the overhead room light and bam! I realized that the light in the globe lights up the constellations, not the regular globe view. It feels sturdy and solid and it doesn't feel or look cheap. Great product!"
3) Learning Resources Puzzle Globe

Next on our list of learning globes for children is the The Learning Resources Puzzle Globe.
While not as high tech as the other globes, this fun, engaging 14-piece puzzle globe can teach kids the names of the continents, oceans, famous landmarks and more.
Learning Resources Puzzle Globe – Sample Amazon Review
"This globe is fantastic! I purchased it for my kids 4 and 8 as my husband does quite a bit of international travel and I thought it would be a fun way for them understand where in the world he is and the routes he takes to get there and home. It has been a HUGE HIT with both of my kids- and they have been fighting over it since it arrived a few days ago!"
4) Shifu Orboot: The Educational, Augmented Reality Based Globe
The Shifu Orboot augmented reality globe is among the best kids learning globes for helping to spark imagination and creativity!
Shifu Orboot – Sample Amazon Review
"I was initially in two minds to purchase the Shifu Orboot for my daughter but once I got it, I feel it's the best Christmas gift I could have given my daughter … she simply loves it … it's very informative as it tells you details about the different animals in the different countries, culture, maps , inventions and monuments !!! My daughter gets to learn a lot and we happy that she enjoys her gift…. it's the best gift u can give ur child !!!"
5) Educational Insights GeoSafari Talking Globe
Our final product in our list of the best kids learning globes is the multiple award-winning Educational Insights GeoSafari Talking Globe, which includes more than 10,000 geography questions!
Up to 4 players can play the quiz game and can select various quiz categories, including the U.S.A, Canada, the World or ALL categories.
GeoSafari Talking Globe – Sample Amazon Review
"I got this globe for my 7 year old niece and she absolutely loves it! We were also very happy to see how much her 3 year old brother was interested in learning along with her (admittedly with a much short attention span). The questions were incredibly wide-ranging and they provoked all sorts of discussions and sharing of family travel adventures through the generations which was great! Would recommend."
Kids Learning Globes – What's Your Favorite?
I hope you will try some of these games with your children and/or students! If you have your own favorite learning globe for children, please share it in the comments below.
Here are links to the 5 learning globes we feature here as well as some others on Amazon. If you are interested in using games for teaching, please e sure to also check out our list of the best money board games for kids.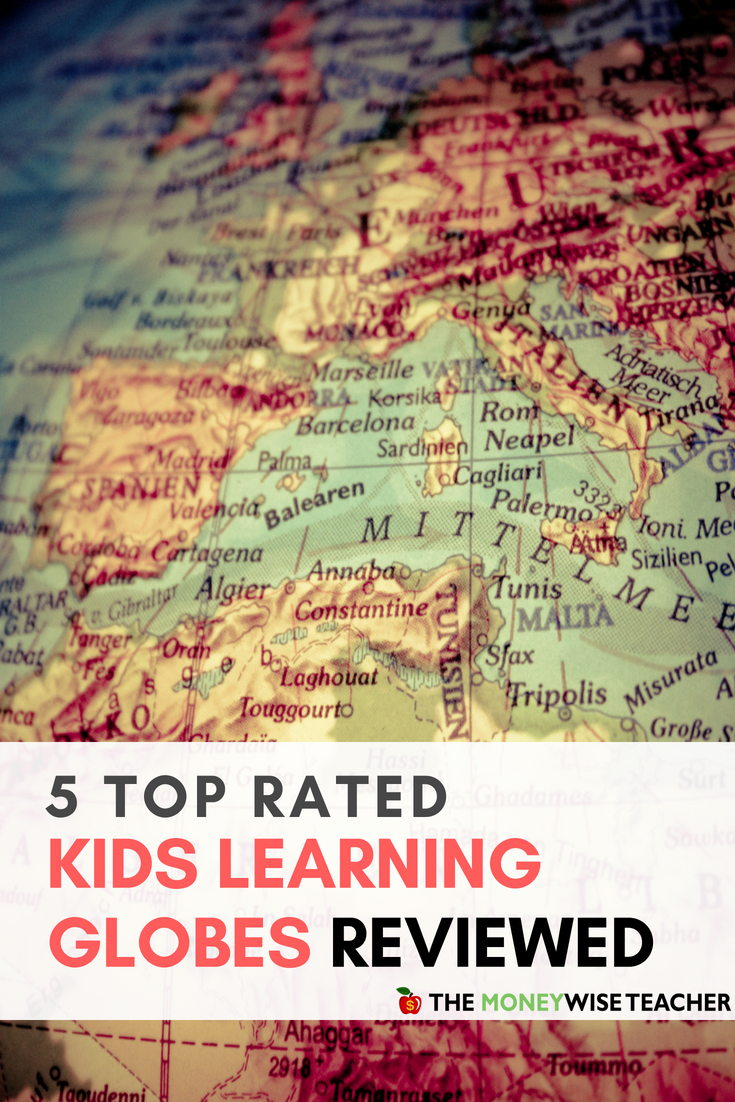 The following two tabs change content below.
Beau Mueller
Beau is a teacher, entrepreneur and the founder of The Moneywise Teacher! He started this website to help educators make and save more money.
Latest posts by Beau Mueller (see all)