If you have ever needed a book for a class, book club or other coursework, you know how quickly the cost can add up. Whether you're buying class sets of novels or textbooks for higher ed courses, Half Price Books has got you covered. Teachers and students alike are fans of the money-saving bookseller.
Does Half Price Books Have a Teacher Discount?
Yes! Half Price Books is committed to literacy for all, and as part of that mission they offer 10% off their already low prices to teachers! This offer is available via their Educator Discount Card, which gives you access to this teacher-only discount.
How to Get your Half Price Books Teacher Discount
In order to redeem your discount, you must apply for the Half Price Books Educator Discount Card in-store. The Educator Discount Card must be shown at check out for in-store purchases to receive 10% off your total purchase. Unfortunately, this promotion is not available online.
Educator Discount cards are available for teachers and librarians that can show proof of employment and need to be renewed annually.
Half Price Books Education Discount – More Recommendations
Half Price Books is known for it's savings, their tagline – "your money goes twice as far at Half Price Books, where almost everything is half price or less every day" assures that you're already getting a steal – but there's still more ways to save!
Make sure to check out the deals section of the Half Price Books website for currently reduced and hot items.
Additionally, Half Price Books has site sections dedicated to books that are Superbuys under $10, under $5, under $4, under $3, and under $2! Wow!
About Company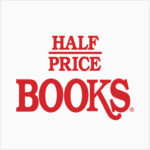 Half Price Books is a US Retailer of new and used books, magazines and textbooks. Known for their textbook buy backs and low retail prices, Half Price Books is one of the few remaining book resellers nationwide.